One of my personal favorites of all time! Cook, marinate overnight, grill, boom!
Ingredients
2

 

sea breams

 

about 500-600 grams each

7

 

tablespoons

extra virgin

olive oil

2

 

tablespoons

 

freshly squeezed lemon juice

2-3

 

teaspoons

 

dried oregano

2

 

small

 

garlic cloves

ground pepper

kosher salt

parchment paper ("wax" paper)

aluminum foil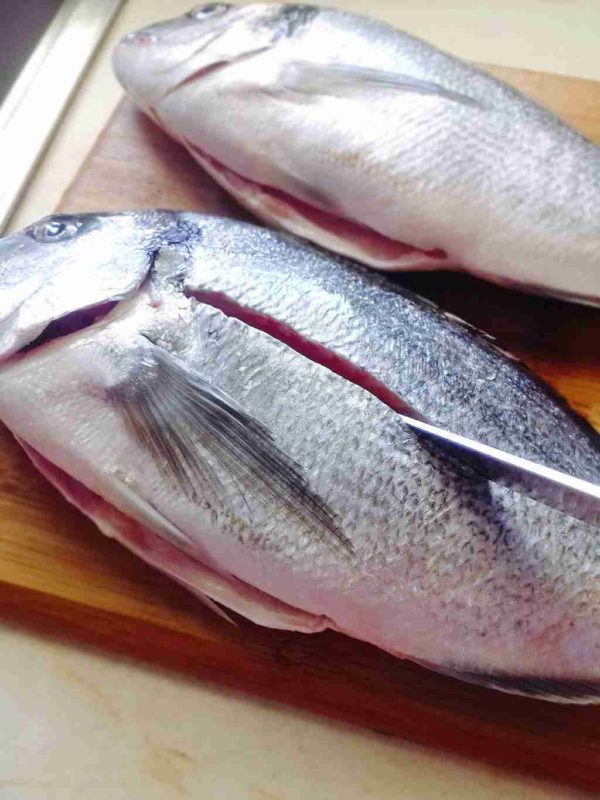 Method
STEP 1
Preheat oven to 230°C/445°F.
STEP 2
Prepare the fish. Remove its scales with a fork. Open the belly and remove the fish innards. Rinse well.
STEP 3
On your working surface lay a large piece of aluminum foil. On top add a large piece of wax paper. Put the fish on top.
STEP 4
With a sharp knife make a lengthwise incision at the center of the fish's belly. (on both sides)
STEP 5
Season well with kosher salt. Add some in the belly and at both the incisions you just made.
STEP 6
In a small bowl whisk together the olive oil and lemon juice. Pour half of it over the fish.
STEP 7
Cut one garlic clove into very thin slices and sprinkle over the fish.
STEP 8
Season using half the amount of oregano and some ground pepper.
STEP 9
Fold the parchment paper at each end. Start by folding envelope-like and than secure tightly. Wrap the aluminum foil well around the fish, making sure there aren't any holes for the steam to escape.
STEP 10
Repeat process for the next fish and add both fish in a baking pan.
STEP 11
Add about 2 fingers of water in the pan. Bake for 50 minutes. At half an hour check to see if there is still any water left in the pan. If not add a bit more so the fish won't stick to the bottom.